Excursion
Friday 10th of May starts with fun! After arriving you and your OES can join us for a lovely trip to the Netherlands Open Air Museum.
Guppy Bus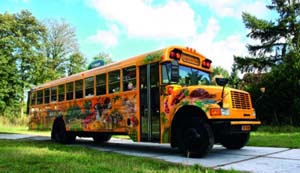 We go to the museum with a very striking bus called "guppybus". This is an traditional American bus for school children.  This is a funny trip for the owner as well as your dogs. Very important: don't forget to take your camera with you!
The Netherlands Open Air Museum: a museum about life
A day out that offers you something extra. You can be sure that all our guests will be enthusiastic about a visit to the Netherlands Open Air Museum! Young and old alike will enjoy a day full of memories in one of our country's most popular museums.
The Netherlands Open Air Museum is where the past comes to life. Special encounters, smells, images and stories arouse unforgettable memories. Time may stand still within its grounds, but the museum itself is constantly changing. Our guests will have a chance to share their memories in a 'starter home' from the 1970s. They will also meet a farmer's wife cooking a meal on her coal-fired stove. In the brewery, the brewer will talk passionately about his wonderful old craft and will also let you try a sip.
At the Open Air Museum you will enjoy a fabulous day out in a beautiful park – your visit will never disappoint. The historic tram will transport our guests, warm and dry, around the park. And, in the event of wet weather, the HollandRama 'memory machine' and exhibitions about collections (Spaarstation Dingenliefde), traditional Dutch costumes (Een Bonte Stoet) and transport company Van Gend & Loos, amongst other things, will fascinate our guests until the sun comes out again.
Various old trams run around the Open Air Museum, serving the five stops. It is free to ride on the tram. One of the trams even has a special wheelchair-friendly compartment. Wheelchair lifts are available at the tram stops .
We have also arranged a guided tour around different themes.
More information abour the Museum
Join this excursion and register with our online form